Broad Hill
The name probably survives from the 'broad estate' of the Saxons, which has remained as an open green.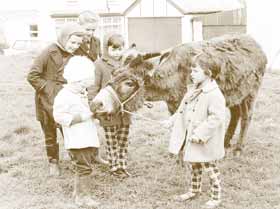 In the early 1960ís Ray Ham's donkey, Arabella, roamed the Broad Hill. Here with J. Burrow, G. Burrow, A. Elliot, S. Jennings and L. Elliot.
The Broad Hill was formerly used by the cottagers for stacking their wood faggots and for their clothes lines.
A complaint was brought forward pertaining to matters concerning the green in Lower Village known as Broad Hill. It was contended that no one could monopolise this green. The children had always played there and it was ideal for that purpose. The Councillors were unanimous in the resolution that steps should be taken to ensure the free access of the children to the Broad Hill. Another complaint lodged regarding obstruction by cars in Lower Village was left on the table for another meeting. (June 1939)
The copper beech tree was planted to commemorate the coronation of King George VI in 1937.
Planting a tree on the Broad Hill to celebrate the Coronation in 1937 of George VI. with A.G. Elliott, Mrs. R.L. Ashton, R.L. Ashton, Miss Grace Ashton, Miss Allen, Mrs. Alfred Slee.
Two cherry trees were planted on the Broad Hill to commemorate the Coronation in 1953.
It was cleaned up, levelled and re-seeded in 1966 to commemorate the death of Sir Winston Churchill.
---