Playing field
After the last war it was thought that a playing and sports field was needed. The School already owned an adjoining small field.
Opening of the Playing Field in 1957. Mrs. Coham-Fleming is cutting the tape.
Ground next to this field, at Tuckerís Park, was owned by the local Rural District Council who agreed that part of the land could be used as a play area.
An intervening hedge was removed, creating an area that was large enough for both a football pitch and a play area for the children.
Slides, swings and other equipment was purchased and a small shelter erected. A grant was obtained from the Devon Playing Fields Association and in 1957 their Chairman, Colonel Wadham, presented the cheque; whilst Miss Coham Fleming officially opened the playing field.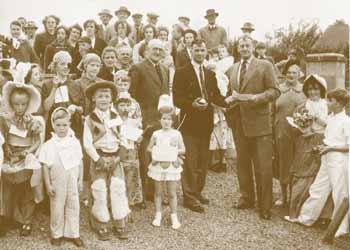 Opening of the Playing Field in 1957. Fred Slee, Tom Cann, Col. Wadham
Ever since its opening the playing field has been used by Bradworthy Football Club, who previously played on Bradworthy Moor. In about 1970 they erected a Club Room with changing area and shower facilities.
For many years a sports day was held on the playing field at the end of May.
---