Bradworthy and District Ploughing Competition
Bradworthy and District Ploughing and Manual Process classes were formed in 1942-43 as educational classes organised by the Devon War Agricultural Committee. The classes were run by Messrs. D. Beale and G. Hingston.
A hedging competition at Mouldons in the 1950's. The two men in the foreground are Robert Lewis and George Wonnacott. On the far left is Tom Taylor, who is believed to be judging.
They were intended to show farmers and farm workers how they could use material grown on the farm save imported fuel, etc.
Mr. Beale took machinery and plough setting classes; for instance a three-furrow plough set properly could be pulled with less fuel than a two-furrow plough set badly.
Mr. Hingston took classes for thatching, assisted by Mr. Tom Taylor for hedge making and spar making.
On the early committee were Messrs. T. Bartlett, G. Taylor, C. Jenkins, T. Taylor, G. Furse, Dr. N.B. Betts, M. Jeffery, D. Millman, and J. Brimacombe.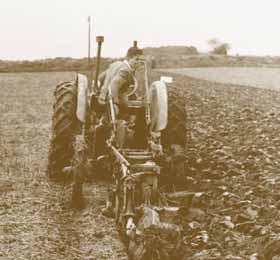 A ploughing competition in 1950. The driver is John Wonnacott.
The first competitions were held on Billhole Farm, Sutcombe by kind permission of Mr. G. Furse, and moved to other farms each year.
Among the early prize winners were W.R. Taylor, O. Jordan, C. Manning, G. Wonnacott, E. Chidley, W. Daniel, and J. Hambly.
In October 1955 the ploughing competition attracted 322 entries. There were 20 entries in the hedge-building section in which R. Lewis retained the cup for many years in the local section. Spar making was also keenly contested.
In 1959 Jack Nott won the ploughing competition. He was already the Plough Champion of Great Britain.
Ploughing matches were often preceded with a lunch for the officials at Lake Villa.
---