Assembly Room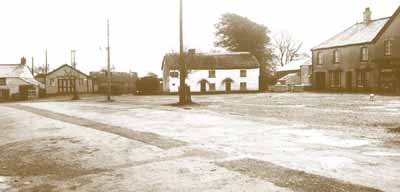 The Assembly room is on the left side of the Square, where Wade's showroom now stands
On the south side of the Square, where Wades furniture store now stands, the Assembly Room was owned by Mr. E.J. Wade.
It opened in 1920, closed in 1958 and was finally dismantled in 1975.
The rooms were used for many years for cinema shows, concerts, dances, dinners and political meetings.
Before the Assembly Room was erected public events were held in the Temperance Hotel Long Room or the Inn Club Room, and sometimes in the School.
There were 53 donors from Bradworthy, Sutcombe and Putford at the blood transfusion centre at the Assembly Room last Sunday afternoon. It is hoped there will be an even better response next time. (May 1943)
---