Housing development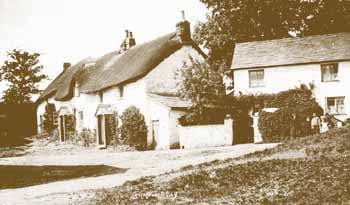 Cottages in Lower Village circa 1910.
Up until 1934 the main builder in Bradworthy was W. Beckly and then Beckly and Sons.
Between 1934 and 1975 Messrs Roberts and Jones were the main builders, when they retired.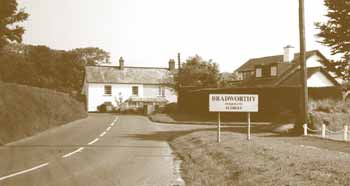 The entrance to the village from the Holsworthy Road in the early 1990's.
Since 1975 much of the village housing has been built by Alan Balsdon.
Some construction work in Bradworthy

---

1922
Billiard Room
1922-23
Men's Institute
1922-23
Trebarwick
1924-25
Cory's butchers shop and house
1925-26
Lew bungalow
1927
Beechwood (for A. Roberts)
1927
Wickett's Garage and Power Station
1936
Old Police House
1937
School bell and turret were dismantled
1938
Blissland (for Mrs. Hockins)
1938
Sunways (for Mr. G. Balsdon)
1943-44
Two agricultural cottages in Mill Road
1946-47
Cottage at Instaple
1953
Bungalow in Berridon Road
1969-70
Ashdene (for Mr. J. Cann)
1971
Bungalow at Wrangworthy
1972
Hillcrest bungalow (for Mr. K. Prance)
---