Ford Crescent & Manor Park
Ian Downing
Ian Downing, electrical engineer, started his own business twenty years ago after learning his trade with Woolacotts of Bude. He has many customers in North Devon and North Cornwall.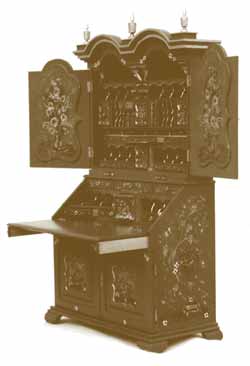 Geoff Wonnacott's miniature furniture in 1990
Nigel Balsdon
Nigel Balsdon, hot and cold water engineer, learnt his trade from his father Mr. Arthur Balsdon who, until his retirement, had been in business in Bradworthy for forty years.
Geoff Wonnacott
Geoff Wonnacott made his first piece of miniature furniture in 1984, and quickly discovered a market for accurate reproduction dolls house furniture aimed at serious adult collectors. His furniture is sold to collectors in America and Europe, and also to museums.
The smallest piece to date is a 24th scale chess table with pieces which fits into a 35mm film container. The board is just 17mm square and the pawns, which stand only 2mm high, are turned in ebony and boxwood.
---