Centenarians
There have been three Bradworthy centenarians this century.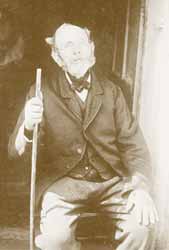 John Bennett started life as a parish apprentice, working in the fields when he was eight years old.
By hard work and thrift he performed a miracle for a poor boy in those days, eventually becoming a big farmer in the parish and a churchwarden for over half a century.
He farmed West Ash, but died at one of his cottages at Ford Cross in 1905.
His headstone states him to be 100, reckoned from the date of his baptism. As he walked a considerable distance with his mother for this ceremony, it was believed to be 105.
Richard Bond, accompanied by Mrs. Nethaway, Mrs. Fraser and Nurse Russell
Richard Bond flourished more recently. He also had a varied career and sought adventure early in North America.
He told me one of the toughest jobs he had was working in the winter cutting of the Canadian Pacific railroad through the Rocky Mountains.
Here in England he and his wife (who was from Liverpool) worked in the household of the Archbishop of York.
He was a coachman for a time to Sir Joseph Swan (pioneer in electricity and photography) and also for the Bosanquets at West Down House, where his wife was lady's maid.
Mr. Bond died here in his own village shortly after celebrating his 100th birthday, in 1962.
The third centenarian was Mrs. Elizabeth Lea who was born in March 1893 and died in December 1994 aged 101.
Born in South Wales, Mrs. Lea had lived in Bristol and London.
She went into service as a scullery maid at the age of 12, eventually becoming a cook in the household of Lord Chief Justice in London.
After moving to Bradworthy in 1981 Mrs. Lea took an active part in village life and was Senior Citizen Queen in Bradworthy's Carnival in 1993.
---