Amateur dramatics
Ivor Potter wrote and produced a number of pantomimes which were staged in February or March.
Richard Furse and Valerie Bailey (Muddlebridge in the Marshes)
The first, Jack and Jill, was staged for two nights in the Assembly Rooms in 1953, and was in aid of Church funds.
In 1962 a village musical comedy, Muddlecombe in the Marshes, was presented by the Y.F.C. in the new Memorial Hall.
This was also presented at Holsworthy for two evenings in 1962.
Widecombe Fair was the 1963 production, running for four evenings.
This was unfortunately marred by the severe winter weather of 1963.
The Young Farmers and Ivor Potter teamed up again to present Robinson Crusoe (three nights in 1974), Old Mother Red Riding Boots (four nights in Bradworthy and two nights at Hartland in 1975).
Richard Furse, Margaret Furse, Dvid Quance, Janet Balsdon (Muddlebridge in the Marshes)
In 1976 Bradworthy Y.F.C. entered the county drama competition. Dick Whittington was presented on eight evenings in 1977.
This was followed in 1978 by four performances of Aladdin.
Again the weather intervened, and the performances planned for the second week were cancelled because of dreadful blizzards that blocked the roads and caused disruption.
Dick Whittington, so well played by Jennifer Pengilly, hears the call of the bells. As the Spirit of the Bells, Susan Heywood looks ephemeral enough, but is very real to those whom she appears, especially Dick.

He believes there is a great future ahead of him. But it is a long journey from Madworthy-on-the-Moor to London town and the hopes and fears of Dick and his resourceful cat, Felix (Jason James) are interspersed with gay diversions in music, song and dancing. Dick and his cat get to London and find their way into the household of Baron Fitzwarren (Leslie Heywood) and his charming daughter Alice (Ruth Ham), with whom they have had some previous acquaintance in the country.

Mother Sarah Whittington (Nigel Greenaway), who provides much amusement throughout the show, gets there too, and although not a competent cook, plays her part in Dick's advancement.

From the streets of old London the scenes change dramatically, with Dick and his friends aboard Baron Fitzwarren's ship bond for Morocco. Later the jolly nautical atmosphere is superseded by diverting glimpses of life in the harem of the Great Shiek Abdul Hassan Mohamed Cascara (Phillip Cleave), enhanced by some songs and dances. Here our wanderers find the wealth they have been seeking. The bells are still calling for Dick Whittington in London, whence they all return for a colourful grand finale, when Dick gets his accolade as well as Alice for his bride.

Special mention must be made of the lithe-limbed, high-kicking dancers, displaying almost the precision of the Rockettes! They are Gillian Burrow, Christine Goddard, Lorraine Moase, Gillian Cleave, Sally, Schiller and Wendy Vanstone.

Bringing humour to the action, in addition to Nigel Greenaway, were Martyn Glover (Bodger), Nicholas Tomlin (Dodger) and John Daniel (P.C. Nabb). Other members of the cast are Richard Feather (King Rat), Brian Heard (Mustapha and Scarecrow), Marlene Harris (Flower seller and Fatima), Diane Balsdon (Slave), Chris Heard (Night Watchman) and Keith Bailey and John Sampson (Camel).

Chorus singers are Diane Balsdon, Marlene Harris, Christine and Diana Philp, Alice Pocock, Keith Bailey, Chris Heard, Russell Bale and John Sampson. Musicians are Ivor Potter (organ) and Ivor Penfound (percussion). (March 1977)
1984 saw the production of the 'sequel' Muddlecombe in the Moor, which ran for four evenings.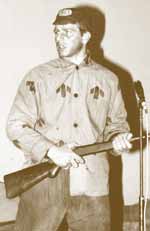 Alan Cann (Muddlebridge in the Marshes)
In 1983, at the instigation of Mr. Richard Furse, the musical comedy Muddlecombe in the Marshes was revived for three evenings.
The cast included some of the original 1962 cast.
1985 saw a change of setting with eight performances of the 'westerama' How the West was Done.
This play was set on the banks of 'Tamarlaki' and involved the local cowboys having troubles with the 'Orniwinki' tribe of red Indians!
This was followed by eight performances in 1986 of Brad's Army, a World War II revue which was a great success.
The last show to be presented at the Memorial Hall occurred in 1988, when Treasure Island ran for four evenings.
---