Families
The Bosanquet's lived at West Down House around the turn of the century.
Most of Bradworthy's small mansions have never been in the ownership of families for longer than one generation.
Outstanding amongst those this century have been the Bosanquets, Corletts and Lockyers at West Down House and the Colliers at Blatchborough House.
Also, Colonel Arthur Fitzgerald, the Griffins and Spreads at Berridon Hall.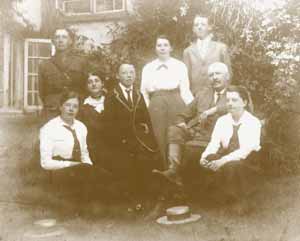 The Ashton family owned Lower Alfardisworthy for nearly 200 years. This family photo was taken in 1915.

Edward, Grace, and Richard are standing. Catherine, Mrs Ashton, George, Mr Ashton, and Dorothy are seated.
The names of some of Bradworthy's local families have been in our records for centuries, such as the Canns, Yeos, Tremeers, Okes, Walters, Bryants, Wades, Jennings and Bonds.
However it is quite alarming how many old families have died out here in the past half century.
Amongst these are the Westaways, Slees, Hawkins and Bromells.
---