Music
The late Mr. R. Stanley Oke, born in this village, was a talented musician. He was organist at Bude Anglican Church and a well known music teacher.
Mr. Joseph Coles was born at Blatchborough. He was blind and an organist at All Saints Church, Cheltenham.
The Bradworthy String Orchestra class is now making excellent progress, and the pupils are becoming very efficient musicians. Last week the orchestra went to Shebbear, where the members took part in the musical items in connection with the Parish Church harvest festival.

Our Vicar (Rev. A.E. Dobson) expresses the hope that the local orchestra will be able to assist the organ in accompanying the singing at the harvest festival services in our own Parish Church. (May 1938)
In 1952 there are reports that a Bradworthy Male Voice Choir was formed.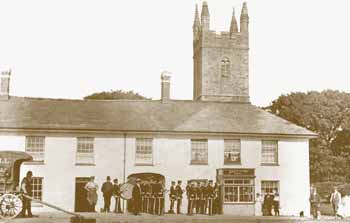 Bradworthy Band outside the Inn circa 1915
Miss Emma Granger, born in Bradworthy in 1968 is a distinguished harpist. As a soloist she has given recitals throughout the country.
Orchestral work has included performances with the Bolshoi and Moscow Festival ballets, and at present she is principal harpist with the Royal Ballet Sinfonia, which is the orchestra of the Birmingham Royal Ballet.
Mrs. Mary Trewin, daughter of the late Mrs. E.W. Worthy (a former headmistress of Bradworthy School) has had an outstanding musical career as performer and teacher.
She holds a number of musical degrees and is a member of the Incorporated Society of Musicians.
Bradworthy Band circa 1920

Back Row: Bert Cholwill, Will Ham, Lewis Slee, Richard Collacott, Bob Mitchell, Gus Roberts, Bob Stapleton, Charlie Ham.

Front Row: Alfred Slee, Rev A.E. Dobson, John Cholwill (bandmaster), Reg Prior, Jack Colliver, Claude Cholwill, Bert Mitchell.
Bradworthy Brass Band
Bradworthy had a brass band, founded by Mr. John Cholwill and the Rev. A.E. Dobson (Vicar) in 1912 or 1913.
Mr. John Cholwill was the bandmaster, on whose death in 1930 the band began to break up and finally ceased to function.
It did however temporarily reform for the Silver Jubilee of King George V in 1935, and again in 1937 for the first Carnival.
---