The 1914-18 War
There were 112 men and women from this parish serving in the 1914-18 War, in which 15 lives were lost. Samuel Bromell and Stephen Trewin were Prisoners of War.
Bradworthy Yeomanry in 1914

Back row: Elam Hockridge, William Coles, William Cann, Edwin Sanders, Charles Cory, Lewis Moase, William Vanstone

Front row: Joe Tyrell, Jack Cardew, Arthur Oke, Samuel Trewin, Stanley Bagilhole, Bert Bryant
Lt. Colonel Cecil P.G. Griffin was awarded the D.S.O. in the 1914-18 War.
Lt. Colonel E.J.W. Spread O.B.E, M.C. also served in the Great War in France with the 1st Battalion, the Loyal Regiment, where he was a Staff Captain of the Northern Command in 1916, and a DAAG of the Northern Command in 1918.
He was severely wounded and served at the War Office in 1919. His M.C. was the first ever awarded.
Captain Geoffrey Corlett of the Royal Navy, served in a number of Great War naval engagements, including the Battle of Jutland.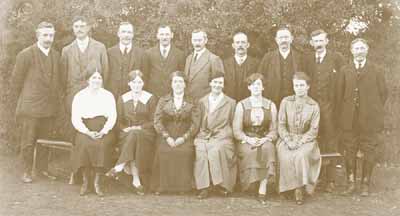 Bradworthy Peace Committee in 1919

Back Row: A. Dunstan, C. Piper, J. Chidley, J. Jennings, J. Westaway, R. Oke, T. Gilbert, L. Trewin, W. Vanstone.

Front Row: F. Bennet, C. Boundy, F. Bennet, Mrs. M. Cole, F. Boundy, Mrs. W. Cole.
He received the Italian Naval Decoration for Service off Durazzo (in Albania) on HMS Badger. He was also awarded the Order of St. Andrew.
Captain Edmund L.B. Lockyer, D.S.O. and Bar, also of the Royal Navy, had a distinguished record in the 1914-18 War.
He was awarded the D.S.O. for outstanding gallantry whilst serving as a gunnery officer on HMS Cannania when that vessel sank the German armed liner 'Cape Trafalgar' in the South Atlantic.
William John Stedwill, a regular soldier, was also an amateur boxer. On one occasion he was at Holsworthy Fair and, being short of cash, he took up the challenge to win £1 in a boxing booth. Within a few rounds he had knocked out his opponent, thereby winning his £1 - and a great deal more when a cap was passed round amongst the admiring spectators.
The men who served in World War I, taken in 1919
Later he was awarded a bar to his D.S.O. when in command of a Q-ship which sank a German U-boat at close quarters. In the 1939-45 War he served as Naval Officer-in-charge at Fleetwood and then at Aultbea in Scotland.
In the First World War there were two women from Bradworthy in the Nursing Services. They were Louisa Kay (later Mrs. Matthew Coles) and Flossie Jennings (later Mrs. William Stanley).
After the war Nurse Jennings worked at the renowned Star and Garter Home in London, but fell ill due to the strain of the nursing work. Later she went to Canada where, after a few years, she died of tuberculosis at the age of 34 in Regina, Saskatchewan. She was the first woman to be buried in the Soldiers Plot of the Cemetery in Regina. Members of the Royal Canadian Mounted Police were her bearers.
---