The 1939-45 War
Col. Spread in 1931
Almost fifty served in the 1939-45 War and three members of one family died.
They were Captains G.P. and R.B. Spread and Major Thomas Meautys.
Flt. Lieut. Dicky Martin D.F.C. and Bar was a pilot in a Fighter Squadron.
Dicky Martin in 1931
He was forced down in a dog fight with 12 Messerschmitts and landed in Luxembourg, where he was interned.
On Christmas Day 1939 he escaped, eventually returning to England.
Hero of Luxembourg Escape
Small in stature, but great in daring, for his fearless exploits against the enemy in the early days of the war the French called him "L'Enfant Terrible". His Luxembourg adventure occurred after he was forced down in a dog-fight with twelve Messerschmitts. He landed in the Duchy where he was held prisoner. Flying Officer Martin (as he was then) enjoyed a certain amount of freedom after giving his parole, which he withdrew again, however, and was then, in his own words, "moved to a room three stories up, complete with bolts on the door, and a brace of sentries".

The guards treated him well, but inactivity was not to his liking, and when taking exercise on Christmas Day 1939, he eluded his guards and escaped under cover of dense fog. Alone in an unknown country, he succeeded in finding his way across the frontiers of Luxembourg, and was eventually able to rejoin his squadron. (August 1941)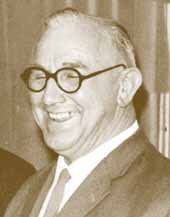 Les Slee in 1970
Lieut. Stewart Corlett was attached to the Australian Navy in the 1939-45 War and was awarded the Distinguished Service Cross.
Sapper Denis Slee was mentioned in despatches in Holland during the 1939-45 War.
Lt. Colonel Owen Collier, O.B.E., served in both World Wars. After the last war he supervised the re-construction of the Ethiopian Railways.
George Plummer was a prisoner of the Japanese.
On 19th December 1941 a concert was given by the L.C.C. school evacuees conducted by Miss Bolton, the headmistress.
---