A changing agriculture
Nowhere has the progress of technology in the twentieth century left a greater impact than in rural areas.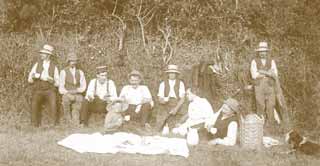 Local farm workers taking a break in the 1920's
The appliance of science has provided a nation with well stocked shelves and an abundance of choice.
Not even the most optimistic of predictions could, at the beginning of the millennium, have visualised a situation of over production, set-a-side and food mountains.
---