Young Farmers Club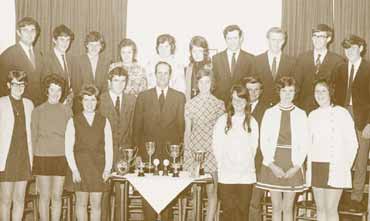 Young Farmers in the 1960's

Back Row: Devon County representative, D. Risdon, J. Daniel, Mrs. G. Ley, M. Harris, C. Grills, D. Hearn, B. Heard, K. Cobbledick, ? Risdon.

Front Row: Ann Boundy, M. Hearn, A. Ley, G. Ley, R. Harris, J. Harris, C. Manning, H. Greenanway, S. Harris, R. Greenaway.
The Bradworthy branch of the Young Farmers Club was formed in 1933 and John Cann was the first chairman.
There were 55 members - making it the largest YFC in Devon at the time - 47 of whom raised calves for the club.
The earliest records of a Young Farmers Club branch at Bradworthy are of a visit to a pig farm at Camborne in 1936 and in 1937 it is reported that John Cann (Worden), chairman, and Alan Bray (South Hill), secretary, proved themselves able and intelligent thinkers during a debate under the control of Major E. Spread OBE. JP.
The role of the club was clearly to improve the members knowledge of farming and provide a competitive venue for stock rearing and judging at an annual show and sale held at Bradworthy Auctions when the fruits of their labours are displayed.
In 1939 prizes were awarded as follows:
Best Heifer - 1st Miss Banbury, 2nd C. Moase
Best Heifer for dairy - 1st L. Gifford, 2nd J. Cann
Best Steer - 1st C. Bailey, 2nd Miss M. Stevens
Bibby's Prize - Fred Bailey and W. Wickett
Lever's Prize - Martin Jenkins, Emily Stevens
WD & NC - John Cann and Gwen Banbury
Prices realised for Show Stock include John Cann (Steer): £21 - George Trewin: £21 - Fred Balsdon: £20
After the monthly market farmers were able to watch with pride as their sons and daughters led their stock, both cattle and sheep, into the ring to be judged by the appointed adjudicators and the farming community in general.
In 1940 the last meetings to be held before the club closed during the war years decided to hold a Dance and Social on the evening of the show and sale.
1940 'Best heifer' prices which stand well in comparison with 1995.
For beef purposes - Mary Beckley (Sutcombe), sold for £21.5s.0d.
For dairy purposes - Owen Banbury (Sutcombe), sold for £18.7s.6d.
On this occasion Martin Jenkins won the President's Prize for Champion Beast and topped the market with a price of £27.15s.0d. with a steer.
---